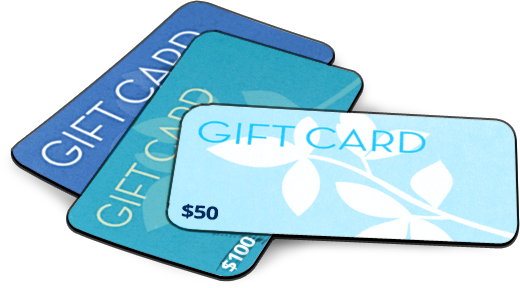 Gift Cards
Gift cards are a proven way not only to increase sales, but also to keep customers coming back!
Benefits

of Launching a Gift Card Program:
Increase sales and cash flow for the business
Promote impulse purchasing and additional sales
Improve brand awareness within the community
Provide real time web based tracking and reporting
Security features to reduce fraud and duplicate usage
Easy reconciliation and reporting systems to save time
Fast transactions and ease of use at the point of sale
Always know how much money is outstanding and what types of activities were processed
Ability to issue gift cards of any dollar denomination
Cards can be re-used and recycled through the system
You can issue, redeem or check the balance of a instantly through a terminal or an online system
Easily assign user privileges for all employees within a location
Loyalty Programs
Your customers are the key to your business' success so why not reward them with a loyalty program to ensure they keep returning?
Benefits

of Launching a Loyalty Program:
Enhanced image/brand reinforcement
Repeat loyalty customers spend 33% more than new customers
Promotes more return visits and larger average tickets at the location
Ability to capture customer information and track purchase history
Tracking and reporting allows merchant to easily manage program
Creates better relations between merchants and their customers
Sets the merchant apart from their local competition
Loyalty card members are more likely to refer others to visit
Promotions or special events can also be launched using the cards
Streamlined procedures at the POS
Interested in Getting Started?
Fill out this short form and we will contact you to discuss your business' needs,
or call us directly at 1 888-688-4542 x 8