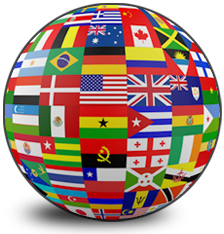 Given the globalization of the world economy, many merchants have widened their customer reach by selling products beyond their national borders: we encourage merchants to consider the benefits of allowing customers to pay in their native currencies, since it is proven that consumers prefer to shop and purchase in the currency they know the best: their own!
With their local presence in countries around the world, our partners deliver global, end-to-end payment processing solutions.
We help merchants improve operational efficiencies and control their overall cost of payment processing by not having to maintain multiple vendor relationships with different processes and reporting systems.
Whether your company is located in the USA, in Europe or anywhere in the world, we can find customized solutions for your needs.
Currencies accepted

/ Bank account requirements:
Over 150 currencies accepted
Settlement available in over 15 different currencies
Bank account can be located anywhere in the world
Types of

Cards accepted:
Visa, Mastercard, American Express
Local Payment methods in some countries
Types of

Businesses accepted:
Any legal business operating over the phone, mail, or Internet)
"High Risk" profiles can be approved on a case by case basis
Card Present merchants located outside of the USA can be approved on a case by case basis
Merchants without US Social Security numbers
Interested in Getting Started?
Fill out this short form and we will contact you to discuss your business' needs,
or call us directly at 1 888-688-4542 x 8