Cost-effective international money transfer services.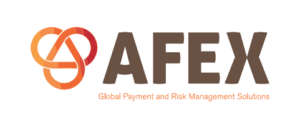 AFEX pioneered global payments and risk management solutions, providing a personalized approach since 1979. As one of the world's largest independent global payments specialists, AFEX is a trusted business partner to more than 35,000 corporate and private clients around the world.
AFEX solutions are cost-effective, flexible and strategic, tailored to your business goals and helping to protect your bottom line.
A full portfolio of cost-effective, efficient solutions
Competitive exchange rates and reduced fees on international payments to 180 countries.
Incoming and outgoing payments.
Global banking network ensures secure, rapid delivery of funds in over 100 currencies.
Multi-currency holding accounts and cross-currency capability: send, receive and hold different currencies in a single AFEX account.
Settlement options include SWIFT for urgent payments, lower-cost local

settlement

and

real-time

instant payments within the AFEX network.
Market updates and hedging tools to manage FX risk.
Licensed and regulated in every jurisdiction where AFEX operates.
Access to secure market-leading online platform, AFEXDirect, 24/7 from anywhere in the world.
Open your free, no-obligation AFEX account in a day or two. No minimum balance or frequency of trading is required.
---
Free risk management consultation
Managing foreign exchange exposures is a necessary part of international business.
Every AFEX client has a dedicated FX specialist who takes a proactive approach to helping you manage risk. A resource for market insight and customized hedging and risk management strategies, your Relationship Manager will:
Take the time to understand your business and your goals;
Evaluate your current processes with a historical trade audit;
Ascertain your risk appetite and future FX exposures; and
Develop an approach tailored to your goals
With a custom FX risk management strategy, you can diminish your risk and exposure at every level, protecting your bottom line and opening up new opportunities.
For a free risk management consultation, or to learn more about how AFEX's portfolio of foreign exchange solutions could support your business growth, please get in touch with our team.
Open an AFEX account