Loyalty or Rewards programs are launched using a card made of PVC plastic that has a magnetic stripe on the back. The card can be used to accumulate points, dollars or rewards in a merchant's store or business. The card can track visits, products purchased or total dollars spent. The merchant can predetermine the levels of rewards or points on the program.
Sample loyalty card – front

Sample loyalty card – back
Consumers visit the location(s) and present the card at the time of sale. The card is then swiped and the system adds the reward or dollar based credits to the card. After a predetermined level is reached or a particular product is purchased the customer can be rewarded with a credit or cash value on the card.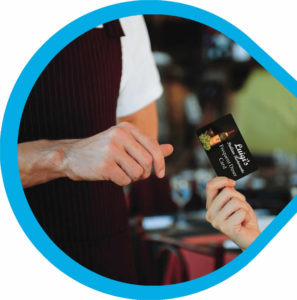 These programs help merchants promote more frequent visits and spending at the merchant's location(s). Merchants can also use the solution to track customer spending habits, measure marketing efforts and collect important demographic information that can be used to send special promotional offers.
The most popular loyalty/rewards systems are:
Frequency based programs
Dollar based programs
Points based programs.
Businesses typically promote programs like:
Rewards Cards
Loyalty Cards
Frequent Diner
Preferred Guest and VIP Cards.
Many other branded or private labeled options also exist depending on the type of business and clientele.
Usually the rewards are not real time in order to promote another visit to redeem the card reward. Some merchants also allow customers the option of accumulating dollars that are then redeemed for free items, discounts, dollar off coupons or special offers.
Loyalty and Rewards cards can be used in many different ways depending on the needs of the merchant or business owner. Programs are adaptable from merchant to merchant and depending on the needs of the business.