After Mastercard's modifications to its brand and logo in 2019, it's Visa's turn to rebrand. Like its competitor Mastercard, Visa's new identity separates its brand symbol from its name. 
The underlying message is that the new Visa brand image is more than a credit card.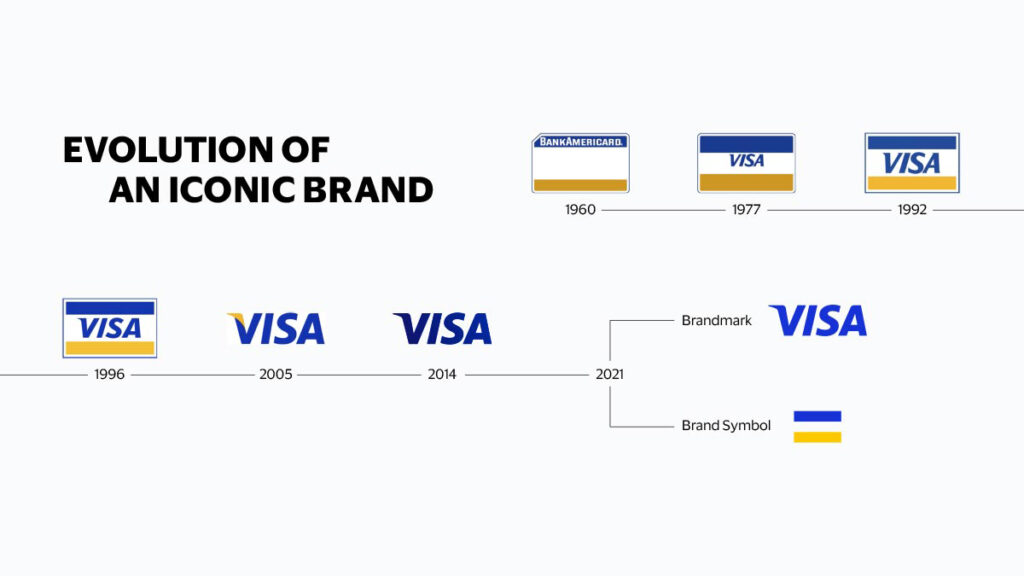 Calendar for Merchants: 
Physical Retail Signage
Effective as of 1 November 2021, any new executions / production should use the new Visa Brand Mark.  
Until 1 November 2022, existing or completed production of

POS

signage can be drawn down / utilized.
By 1 November 2023, existing physical signage displaying outdated Visa marks are to be removed and replaced with the new Visa Brand Mark.
Digital and Stored Credentials
Effective as of 1 November 2021, any new executions / production should use the new Visa Brand Mark.  
By 1 November 2022, merchants are required to transition to the vibrant blue Visa Brand Mark for existing executions.
Rebranding Visa: a brand identity towards more modernity and inspiration.
Building on 60 years of brand history, the new identity is not far from the brand image we know: it rather leverages the famous blue and gold colors by separating the brand symbol from the wordmark to create two distinct assets.
The brand symbol will now stand alone, as will the Visa brand:
This update is part of a broader marketing campaign that includes a series of ads that launched during the Tokyo 2021 Olympics.
The launch of the new identity is accompanied by a video to show how Visa helps businesses and merchants around the world.
History of the Visa logo
The previous version of the Visa symbol was depicted in January 2006, effectively replacing the company's iconic three-decade-old symbol that was famous for its blue, white and gold design. First appearing in 1970, it featured the brand name in the middle of the two lines.
The new symbol contains the italic font with a considerable slant accent on the first character, which is a winged letter "V." According to company officials, the Visa symbol was created to highlight the wide range of electronic payment products offered by the company in a more efficient and effective manner.
The blue color in the Visa symbol signifies the excellence and reliability of the company's financial products, while the gold color represents excellence and its rich traditions.
Marketing and Signage
Merchants can find official guidelines here
Merchants can order Visa ready marketing materials here